So, where am I at with this thing? Well, I set up this blog for starters. And, I think that's as far as I'm willing to go. I'm scared to death.
The End!
Actually, it's moving along quite nicely. My "homework schedule" is now posted in the home "office".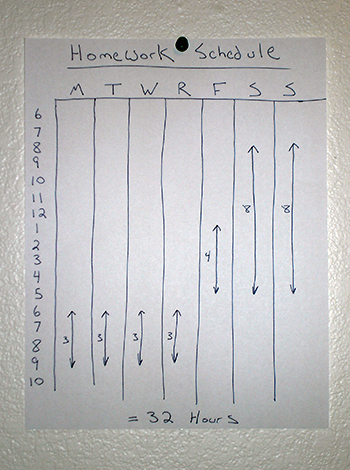 I feel like I'm back at college. One of the hardest thing has been cutting out TV, but I think I'll be alright once the shakes subside. Oh crap, the SEASON FINALE of Hell's Kitchen is on! Where's the remote? This is not a drill people! To be continued…
Alright, where was I? Oh right, let me fill you in on what I've done as far as setting up this blog and beginning the marketing process. This blog serves as a marketing tool for my business, so let me briefly talk about how I set it up. First of all, it is a WordPress blog that I installed on my web server at home. Something Ventured is a title that I felt nicely embodied what it is I am doing. As always though, whenever I think I'm being original, there's a million people out there thinking the same thing. When I tried to register the name at GoDaddy I discovered there's already a "somethingventured.com" out there.
As I did a little more investigating, there are tons of sites out there using this phrase. Go figure. I'm unique and original just like everybody else, right? So I tried a few others and finally settled on someventure. I think it works, what do you think? It's all in how you read it. If you have a half-full glass, it's "wow, that's SOME venture you got there!". If your glass is half empty, it's "neh, that's just some venture, who cares". Or maybe you happen to be drinking a quadruple shot latte or mixed drink and it's "hey man…some [people] venture…think about it?". However you read it, it's a done deal, and I am now officially financially invested in this puppy. A whopping $9.20 too!
Now, the next order of business is how to market my marketing tool. For starters, I setup an RSS News Feed (top right, if you haven't already subscribed) to run through the all powerful FeedBurner, so I can monitor usage and enhance/promote the feed. I then setup an account with Google Analytics to help me measure traffic to this site. And the first wave of marketing is underway. The search engines are probably crawling as we speak, as I submitted the domain to Open Directory, Google, Yahoo, and other free directories. I linked to it from a few others sites that I own as well as blog search engines Technorati, Weblogs, and BlogSearchEngine. It's been added to my list of del.icio.us links and I'm hoping others will follow suit (wink). If you use Technorati and want to add this blog to your profile, I added a link in my sidebar just for you.
So, my plan from here is to start participating more in other peoples blogs and get the word out that way. I am also considering posting links in MySpace and other social networking sites. And if you've ever heard of the game SecondLife – I may do some advertising there as well. I'll keep you updated on how my marketing efforts are paying off and new tools I find along the way. If you have any good tips, please comment.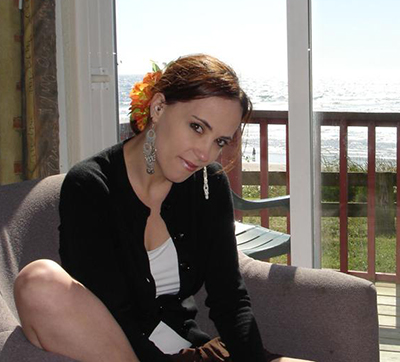 My lovely and talented girlfriend Misty helped me out with the logo. Although she'll probably never help me again because I was such a pain in the process, right Misty? Misty? Huh, that's odd, there's just a note where all her stuff used to be?
Trackbacks/Pings
Comments
RSS feed for comments on this post.
Leave a Reply