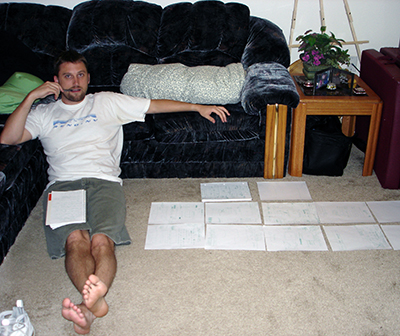 me and my prototype
Hear ye hear ye, the appetizer has been prototyped! Well on paper at least. I spent all day yesterday and today designing it, naming it, and copywriting it. My wonderful girlfriend Misty user tested it for me this morning and after some minor tweaks, we both agreed that it's looking pretty darn good. I had her point to something when she wanted to click and then I gave her the next page, in case you're wondering. She did an awesome job and uncovered some things I hadn't thought of. So now all that's left is to actually build the thing! I also need to find a good designer to build me a logo and some miscellaneous images. I just posted the following on ProgrammerMeetDesigner…
I am building a web application and looking for an experienced designer to build approximately 5 vector images. I am hoping to have this completed by the end of the month and it would consist of the following (its grape related btw)…

1 Logo
1 Grape Icon (different from logo)
2 Vine Images (1 HR, 1 Arrow)
1 Larger image of a grape bundle

I want these to represent something new and exciting so am looking for a high level of creativity. The images would need to be fun, simple, clean, crisp, colorful, and in the spirit of web 2.0 ;). I know it's a term that is way overused these days, but hey.

If this sounds like a good project for you, please respond with an estimate, portfolio, and a little about you and how you typically work with your customers to arrive at a final product. You can reach me here or at zackdad@gmail.com.
Hopefully I'll have a designer on the payroll by Friday and can get those images within the next few weeks. Everything is coming together nicely so far and it's on track to be delivered by the end of the month, so stay tuned.
RSS feed for comments on this post.
Leave a Reply