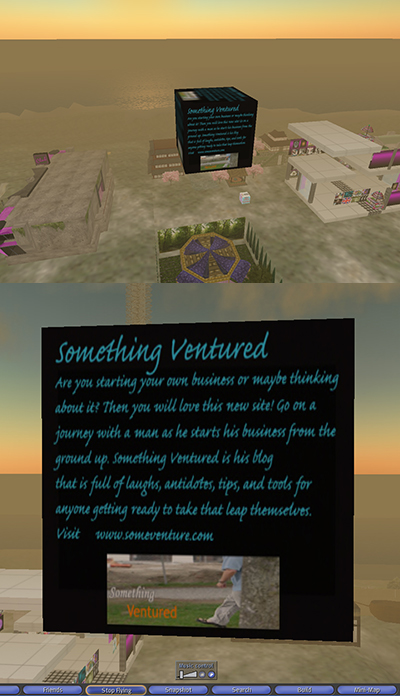 Second Life Screenshot
My girlfriend Misty is pretty hooked on the computer game Second Life and was kind enough to advertise my blog on there :). If you don't know, Second Life is an extremely popular game/virtual world right now. I've never played it myself (no time) but like MySpace, I'm convinced they put crack in their code. I need to find out where I can get my hands on some of this virtual crack so I can sprinkle some on my appetizer. Anyways, in this game you can design characters, houses, clothes, storefronts, etc. and actually make real money in the process. From what I understand, people are making some damn good money selling Real Estate, if you can believe that. And that's just the tip of the iceberg! There are tons of business transactions going on everyday on that game, if you can even call it a game. The line between game and reality is getting way too thin these days.
Perhaps I should say to hell with my first life and consider starting a virtual business inside Second Life instead. Somehow though, I'm pretty sure I would wind up in a virtual cube and my character would have to commute through virtual traffic every morning. Then I'd make my character program on his little computer all day. Course then when I wasn't looking he'd probably download Second Life and start playing and put his character to work in a cube and, of course, my brain wouldn't be able to process that so it would go ahead and explode.
Hmmm…on second thought, maybe I better stick to my first life.
Update: Second Life was recently hacked! The line between game and reality just got thinner yet ;).
RSS feed for comments on this post.
Leave a Reply