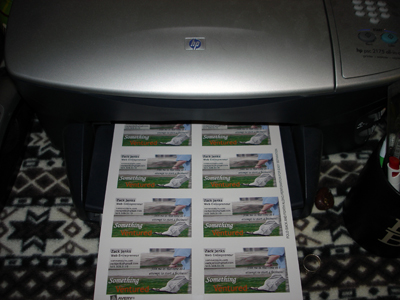 a fresh batch of cards
Well, tomorrow is the big day (small biz fair) and I've been spending some quality time tonight prepping. I've thought a little about questions I'd like answered and how I will go about discussing my future business and promoting this blog, but today has be a very brain-dead day so I mostly just staired at a blank sheet of paper and drooled.
As you can see, though, I did summon enough brain cells to make some snazzy business cards for the occassion. Now all I need is a business to go along with them. Someday maybe I'll hop off Mr. Rogers trolly and actually have a real business up and running. But for now, I just have to pretend. Hopefully, I'll get in some good networking tomorrow and this event will learn me a thing or two. Wow, I better hurry up and finish this memo, I'm getting dumber by the second (brane is done overworked).
Anyways, being that time is such a valuable commodity to me right now (even moreso than usual), and this is an all day event, I sure hope it pays off. I'll be sure to report back here on Sunday and let you know how it went and what I learned from it all. And that's all i have to say about that.
Trackbacks/Pings
Comments
RSS feed for comments on this post.
Leave a Reply